worm type final gear

linear type screw for smooth operation

built in motor

easy-to-see opening indicator

thermal protector

Koei Rexter Filtrate Collector Rex - 100S / Ti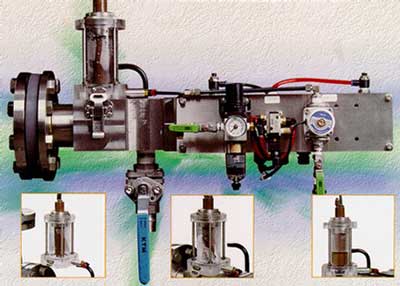 Easy maintenance and accurate sensor reading for a long time period.
Clog-free operation with perfect flushing through Koei's proprietary Flush-and-Vacuum System (FVS) and hybrid screen.
No manual draining: Sampled liquid and solid contents automatically returned to flowline after each measurement.
Constant operation without influencing line consistency or pressure.
Auto cleaning: wash water maintained separate from flowline.
Auto-resampling circuits with system alarms to alert operator if improper sampling occurs.
Self-protection against sensor-drying even when at rest for extended periods.
Built-in PLC for easy installation.
Tool-free checking and standard maintenance.
Total pH Control, by combining the functions of the Rexter REX 100 with a control panel and Nucom valve actuator to close the loop on pH.
Adapts for use with immersion-type sensors (pH sensor, OR sensor, etc.), or with optical-type sensors(turbidity sensor, COD sensor, etc.) to obtain real-time analysis of flux.
Can be used to develop a higher level control system to retrieve data and run multiple sensors or to control multiple parameters.
Use your sensor at hand - housing hardware for your sensor will be prepared at factory.